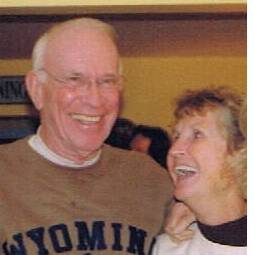 Donald G. and Irene Blakeman Scholarship Fund
The Donald G. and Irene L. Blakeman Scholarship Fund was established to support students enrolled in the College of Business. Don, a native of Sundance, WY, and Irene, a native of Paxton, MT, knew the value of higher education and how it can afford additional life opportunities.
They also recognized affording it can be an issue. Not able to bear the expense of higher education right out of high school, even with a scholarship awarded to the highest male graduate of his class, Don joined the Air Force in 1950. After serving his country, in 1955 he returned to his home state to attend the University of Wyoming with the help of the GI Bill and his high school scholarship. Don graduated with honors from UW's College of Commerce and Industry in 1959 with a Bachelor of Science. He enjoyed his time at UW immensely and excelled scholastically, receiving postings to the Dean of Men's Honor Roll, the W.W. Tipton Award, the Alpha Kappa Psi Award, the WY Society of CPA Scholarship, and membership in Phi Kappa Phi and Beta Gamma Sigma.
Following her high school graduation in Missoula, MT, a year of business school, and a job as a librarian, Irene moved to San Francisco. There she worked for the US Forest Service. Following his UW graduation, Don made his way to San Francisco by way of Chicago, where he completed an internship at the accounting firm of Arthur Anderson followed by a job with the same company. Soon after arriving in San Francisco, Don met Irene and wasted little time proposing.
In 1964, Don and Irene, now married and with two daughters, moved to Puerto Rico (PR) where they enjoyed warm weather as well as a wonderful new culture and people. Their family of four soon became six with the addition of two sons. Don, working initially as an auditor, was offered a job within the accounting department of the real estate development company he was auditing. He flourished, spending the rest of his working years at this very company, learning about real estate, accounting, finance and business, while tirelessly working his way up the ladder. He retired as executive vice president and CFO of the company as well as president of the division in PR. Irene focused throughout their 30+ years in PR on the business of raising four children, running a household and contributing to the community. A devoted wife and mother, family and friends were her priority. She spent hour upon hour driving their four children to three different sport practices day after day, leading Cub Scout and Brownie troops, coaching a swim team and creating wonderful dinners and memorable events. She was equally there for their children's friends, some of whom still think of her as a second mother.
Coming from meager beginnings, Don and Irene held to a strict budget over the years, and ultimately retired to North Carolina. Part of their hearts, however, remained in Wyoming, where many of the extended Blakeman family continue to live. Always a UW fan (Go Cowboys!), Don was known to have won—and lost—a few bets when rooting for his favorite football team.
All four of the Blakeman children graduated from college, and Don and Irene wanted to make sure others enjoyed the same privilege he and their children had been afforded. Both Don and Irene would tell you to make the best of your scholarship opportunity and work purposefully throughout your life.