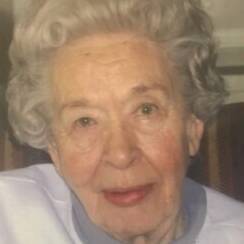 Betty Nalls Freedman Native American Scholarship for Social Work
Elizabeth "Betty" Jane Nalls Freedman was born May 11, 1920, at the original Bishop Randell Hospital in Lander, Wyoming. She was the daughter of Stuart and Esther Cheney Nalls, who ranched on Squaw Creek at the foot of the Wind River Mountains just outside of Lander. Her grandparents, Ervin Franklin and Matilda Jane Cheney, moved to Lander from South Pass in 1878.
Betty and her older brother Stu grew up on the ranch, which was accessed from town by a dirt road that often became impassable in the winter and spring due to snow and mud. There were no phones, electricity, or modern plumbing, and they used a car battery to listen to the radio. As the only daughter living on the ranch, Betty was usually left to herself and her many pets, which included horses, calves, lambs, chickens, ducks, rabbits, cats, many dogs, and for a short while a young bear. While growing up on the ranch, she spent much of her time exploring the foothills on horseback and was especially fond of fishing in the Shoshone Lake area.
She grew up in the Depression, and so there wasn't a great deal of money. You grew what you ate, and clothing was passed down family to family. To waste anything was a sin.
After graduating high school in 1938, Betty went directly to Laramie to attend the University of Wyoming, where she graduated with a bachelor's in psychology and sociology in 1943. It was during her time at the university that she met her future husband, Stanley Freedman, who was in the Army and was on his way to Stanford to be trained in foreign languages for the war. They were married August 3, 1943, by the Reverend John Roberts at the Roberts Mission in Fort Washakie.
Betty began her career in social work in Cheyenne while pregnant with her oldest son, Ben. At the time, she was working in the heavily segregated Afro-American district. Betty always rooted for the underdog, and as she later said, "She didn't know that such profound prejudice existed or that people could actually live in such squalor." After Ben was born, she returned to Lander where she was a stay-at-home mom and gave birth to a second son, Ted. After both boys left home, she went to work for the State of Wyoming for a short period of time as a social worker. It was a few years later that both the Eastern Shoshone and Northern Arapahoe tribes on the Wind River Reservation requested her as their social worker.
Betty had deep respect for Native American culture, and many friendships on the reservation resulted from her work there, which still reverberate today. Said Betty, "The Indians were great. They were the most wonderful people in the world. They have the best sense of humor—if they teased you, you knew they liked you. I enjoyed my profession as a social worker, and working on the Wind River Indian Reservation was the most interesting and rewarding of all. It is a shame that more non-Indians are not aware of the Indian culture that brings great understanding of man on this earth and his commitment to the Creator. We have taken much and not returned the best to the Indian." She was totally committed to her clients, especially the young children whom she adored.
After she retired from social work in 1971, Betty continued to attend Pow Wows, Sun Dances, and other ceremonies on the Reservation, and her friendships there never faltered. Later, due to her failing health, she was no longer able to attend the Pow Wows and Sun Dances, so, in the summer of 2004, the great granddaughter of Chief Washakie, Zedora Enos, and her family honored her with a dance in her backyard. As Zedora noted, "Dancing is a form of prayer and (we) were bringing (our) prayers to Betty."
Betty Freedman is the only non-Native American to have ever been honored with a Shoshone Pow Wow in her own home.