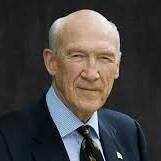 Alan K. Simpson Center for Legal Service Construction Fund
Former United States Senator Alan Kooi Simpson was born September 2, 1931, in Denver, Colorado, the second son of former Wyoming Governor and U.S. Senator Milward Lee Simpson and Lorna Kooi Simpson. He attended public schools in Cody, Wyoming, and spent a post-graduate year at Cranbrook School in Bloomfield Hills, Michigan, before entering college. He entered the University of Wyoming in 1950 and received a bachelor of science in law degree in 1954. While at the university, he was a member of the Student Senate, a member of Alpha Tau Omega Fraternity, president of the "W" Club Lettermen's organization, and lettered in both varsity football and basketball.
Upon graduation from college, Simpson joined the U.S. Army and was commissioned as a second lieutenant. He served overseas in the 5th Infantry and 2nd Armored (Hell on Wheels) Divisions in the final months of Army occupation in Germany. Following his discharge from the Army in 1956, Simpson returned to the University of Wyoming to study law and earned his Juris Doctorate in 1958. He joined his father and later Charles G. Kepler in the law firm of Simpson, Kepler and Simpson, practicing law in Cody for the next 18 years. During that time he also served ten years as city attorney (1959-1969) and for a short time in 1959 as assistant attorney general of Wyoming.
Simpson began his political career in 1964 when he was elected to the Wyoming State Legislature as a state representative of Park County. He served for the next 13 years in the Wyoming House of Representatives, holding the offices of majority whip, majority floor leader, and speaker pro-tem. In 1978, he ran for and was elected as a Republican to the United States Senate for the six-year term beginning January 3, 1979. He was re-elected in 1984 and again in 1990. While in the Senate, Simpson served as majority leader, assistant minority leader, and chairman of the Veterans' Affairs Committee. He also served on the Judiciary Committee and chaired its Subcommittee on Immigration and Refugee Policy, the Environment and Public Works Committee, the Finance Committee's Subcommittee on Social Security and Family Policy, the Special Committee on Aging, and the Select Committee to Investigate Undercover Operations of the FBI and the Department of Justice. Simpson completed his third and final term on January 3, 1997.
After retiring from the Senate, Simpson served as director of the Institute of Politics at Harvard University's John F. Kennedy School of Government from 1998 to 2000 before returning to Wyoming to resume practicing law in Cody. He was selected as co-chairman of the Continuity of Government Commission after the September 11, 2001 terrorist attacks on the United States, and also served on the American Battle Monuments Commission. Simpson made frequent appearances as a commentator for television news programs and kept a busy speaking schedule. In addition, he served on the boards of several corporations and was chairman of the board of trustees for the Buffalo Bill Historical Center in Cody, Wyoming.